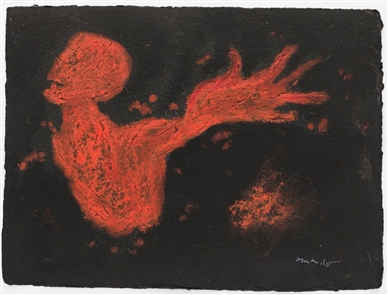 Carborundum
Carborundum is one of the hardest materials after diamonds. This compound is commonly used by printmakers to grind down lithographic stones.
Somewhere in Paris, around the seventies someone decided to experiment with this material. It was added to Plexiglas, first with fire and then with glue, and created a paste-like material which was used to shape wanted designs on plates. Handmade paper was then pressed against the inked plate, and as a result the carborundum technique was born.
This particular technique fitted perfectly with Armando, as he usually works with textures and reliefs in his canvases. All of Armando's works are printed in a heavy handmade paper with small quantities of lithographic ink and personally signed by him. The impressive character of the craft technique of the prints combined with the limited number of works made, makes these editions a collector's must have and we are pleased to exclusively offer them to you.